---
World Dog Show in Leipzig were also attended by Ibinka beautiful older sister - Helen
with the owner - Malgorzata Brzezinska (PL)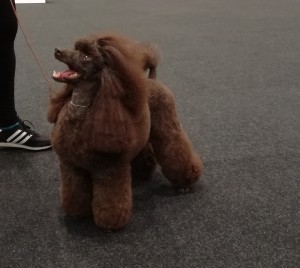 Isabel Fantazia Brown - Ibinka - On Friday 10.11.2017

At the World Dog Show in Leipzig (judge Naďa Klírová) she received a wonderful VP1 award in the puppies class and won the second place overall among the bitch.

Congratulations to Ibinka, we are very happy!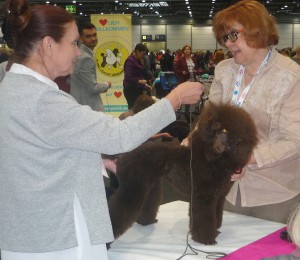 Club show KCHP, 28.10.2017 Kladno, judge Inga Stiil (Estonia)

Gery V1, CAC, ČSŠ

Isabel at her first exhibition at 6 months of VN1, ČDŠ

Irwin also on the first show VN1, ČDŠ, Best puppy dog

Coletin's sons and grandchildren are successfully continuing with the footsteps of their mother and grandmother's heart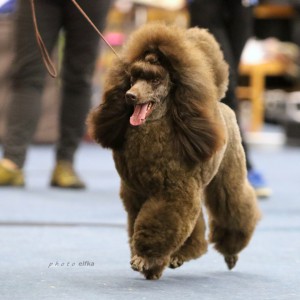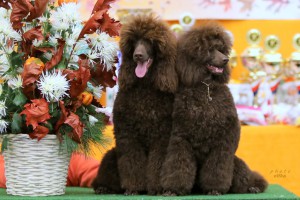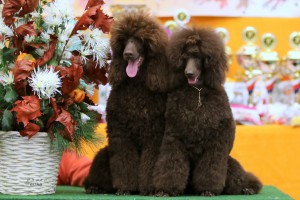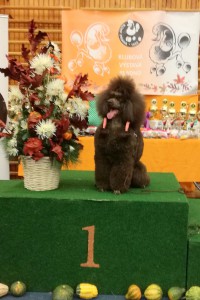 Tonight, October 1, 2017, she left us forever our beloved Coletka.

Coletko will never forget you broken heart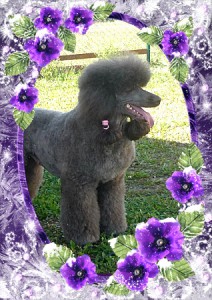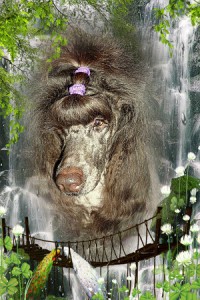 The amazing success of our Geryn / Geronimo Fantazia Brown

Duo CACIB Bratislava 19.-20.8.2017

Judge Zuzana Brotanova (CZ), Vladimir Javorcik (SK)

He received beautiful awards-
2xCAC, 2xCACIB, 2xBOS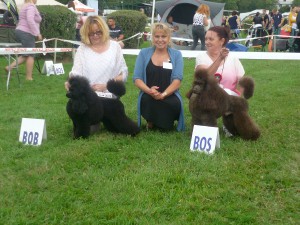 Our new baby girl Ibinka - Isabel Fantazia Brown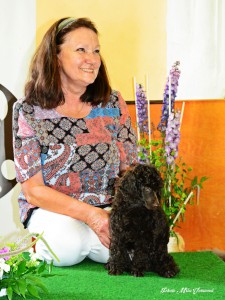 All puppies are already in their homes,
Isabel stays at home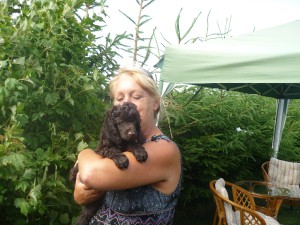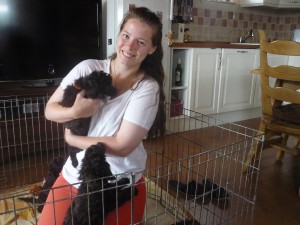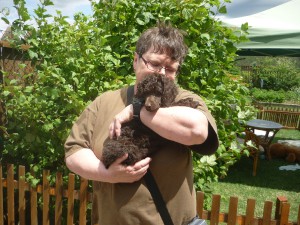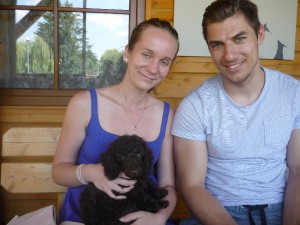 Today we have been here for 7 weeks and we are growing into beauty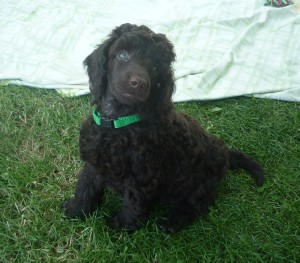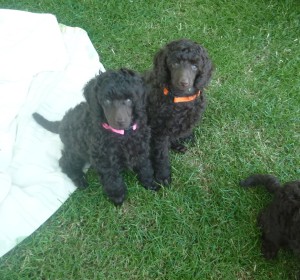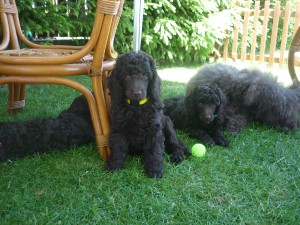 Puppies have been 6 weeks old, growing, angry, tearing what they find.
Today we were on the chip, do they have officially assigned their names:
Ilex, Irwin, Imont, Iwonka a Isabel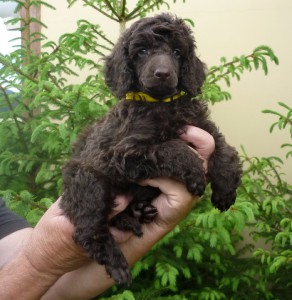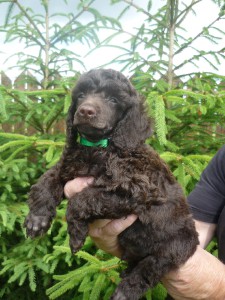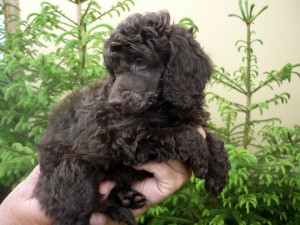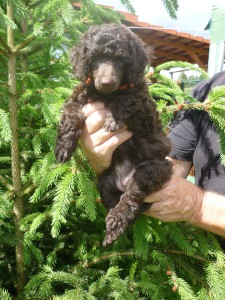 Our puppies are now 1 month old,
One boy is still available !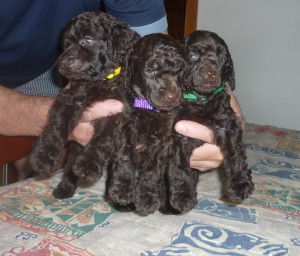 Boys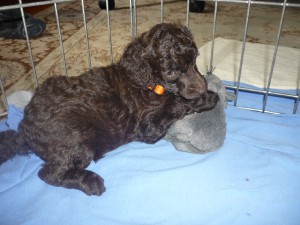 Iwonka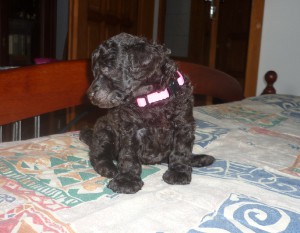 Isabel
International dog show Lučenec (SK) 6.-7.5.2017 - Gery - Geronimo Fantazia Brown 2x V1, CAC, Res. CACIB
Judge Radvánsky Katalin (HU), Sárkőzy Gyula (HU)
We are very happy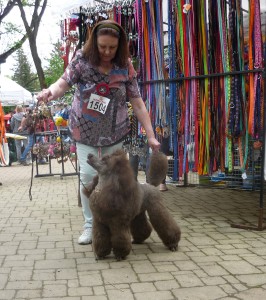 On Monday April 24, 2017 Karmen was born 5 beautiful puppies, 3 boys and 2 girls

Good health puppies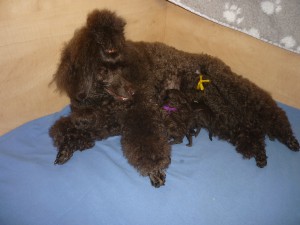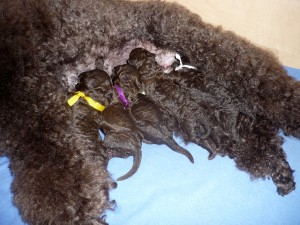 father Geronimo Fantazia Brown,patella 0/0, PRA 0/0, CH CZ
mother Karmen Brown Neraka, patella 0/0, PRA 0/0, C.I.B., Grand CH CZ, CH CZ, Jun.CH CZ, CH PL, CH SK, CH KCHP, BISS , 3x BISS IV , 5x BOB , 8x BOS , BEST of PUPPY 2 , 6x CACIB...
Introduce you to new Interchampion C.I.B.
Fabienne Fantazia Brown
owner MUDr Yvona Kotroušová
Big congratulations

His titles here !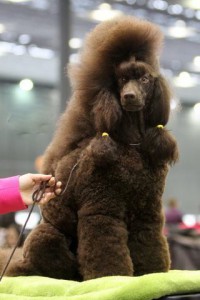 Today, February 26, 2017 celebrates its 5th birthday our beautiful Kamenka (C.I.B. Karmen Brown Neraka )
Happy birthday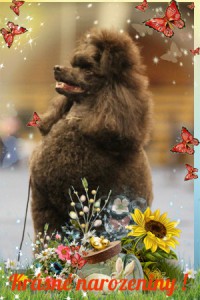 Happy Gery in the snow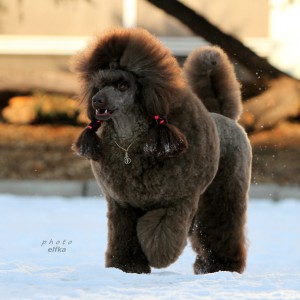 Geronimo Fantazia Brown - New Czech Champion
National Dog Show Brno Jan. 8, 2017, Excellent 1, CAC judge Mr Řehánek (CZ)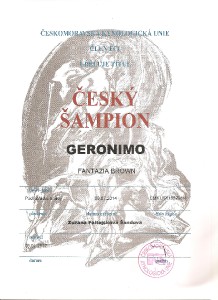 Merry Christmas
good luck and health in the New Year 2017
to all our friends wishes Kennel Fantazia Brown !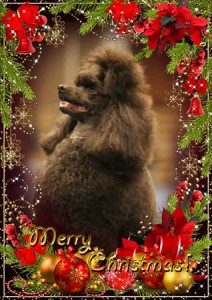 December 9, 2016 celebrating our Coletka with her siblings - Calif, Carlos, Cedric and Caroline's 9th birthday.

We wish everyone all the best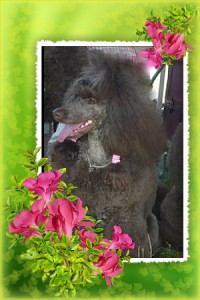 Karmenka on show KCHP November 19, 2016 in Kladno, in honor class V1, CCS

Judge Linda Barker (UK)
Bravo Karmen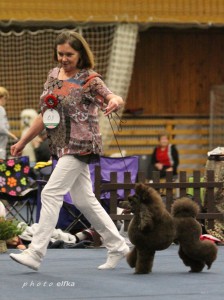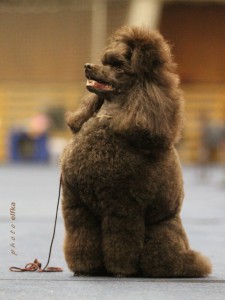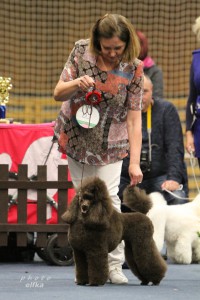 Freddy is super father

Amy's Ice Lolly - on his first show!
November 19, 2016 ,Speciality show KCHP Kladno , judge Linda Barker
Amy's Ice Lolly - on his first show!
(Father Freddy Fantazia Brown, mother of Pelagie Derže)
Best Junior Bitch, BOB Junior
Magda Pugnerová breeder, owner of Jitka Procházková

Big congratulations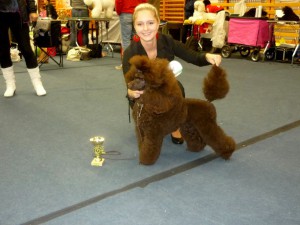 Hellen Fantazia Brown,
(Father Freddy Fantazia Brown, mother Karmen Brown Neraka)

Owner Malgorzata Brzezinska (PL)

November 19, 2016 National Dog Show in Aleksandrow Łódzkie
V1, CWC, NVRP, BOB judgeTamara Sarmont

Congratulations Hellen !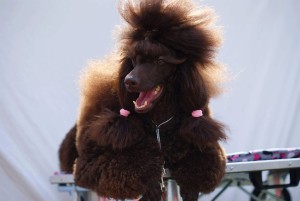 November 9, 2016 celebrating our Lexíček his 12th birthday
We wish his brothers and sisters Angela, Aneli and Aris Happy Birthday
:)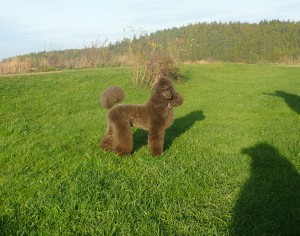 Gery / Geronimo Fantazia Brown
International Dog Show Bratislava
5.11.2016 V1, CAC, Res CACIB, judge D.Javorčík (SK)
6.11.2016 V2, Res CAC, judge Z.Jílková (CZ)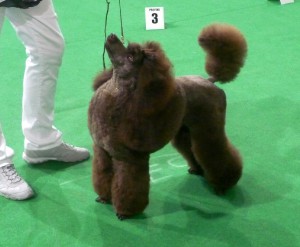 30.10.2016 International Dog Show Prag
Gery - V1, CAC , Judge Istvan Czik (D)
National Dog Show Jelenia Góra (PL)
Saturday 15.10.-judge Inga Sill (Est)
Sunday, October 16, 2016 - judge Rainer Jakobs (D)
Geronimo - 2x V1, CWC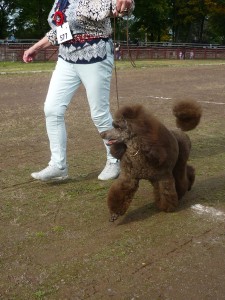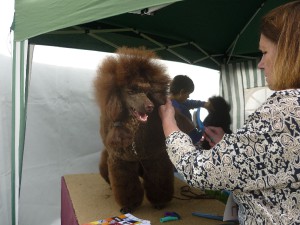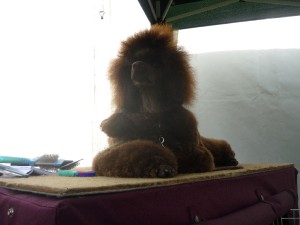 International Dog Show October 9, 2016 České Budějovice
Geronimo Fantazia Brown/ Gery - excellent 1, CAC, judge Iuza Beradze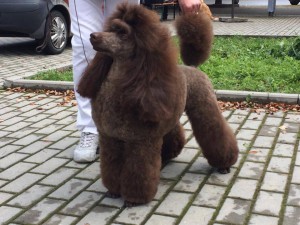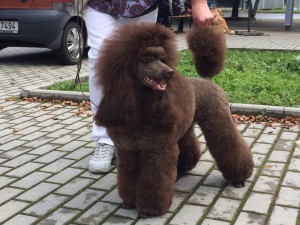 14.8.2016 NV Toruň (PL) Hellen Fantazia Brown ( father Freddy Fantazia Brown, mother Karmen Brown Neraka ) - 1 year, V1, Best Junior Male, BOB, judge M.Redlicki (PL) , owner Malgorzata Brzeziňska (PL)
Congatulations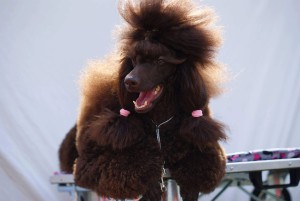 Saturday 13.8.2016 KCHP specialty in Podebrady, judge Stefan Dimitrijevič (SRB) - Geronimo - Exc.1, CAC, Best brown male of the show !
Our third CAC - Gerry well done !!!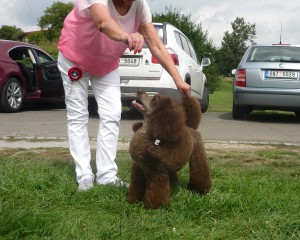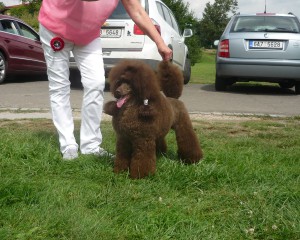 On Sunday 17.7.2016 gained Geronimo at NDS in Mlada Boleslav from judge Petra Ulrichova Pliskova nice evaluation - Exc.1, CAC.
Our second CAC - congratulations to Gerynek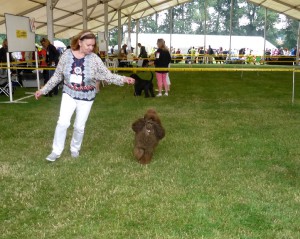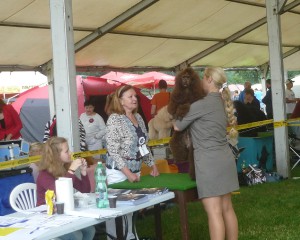 On 9.7.2016 celebrate their 2nd birthday our "G" puppies boys - Gaston,Garry Cann,Geronimo and girls Genesis, Giuliette and Gwendolyne.
Happy birthday our darlings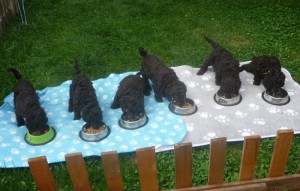 Our puppies will be 8 weeks soon and they will move into their new families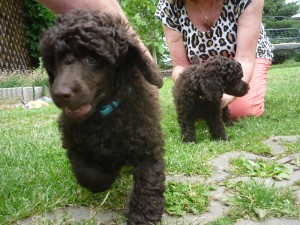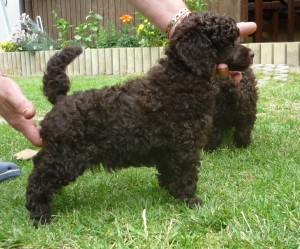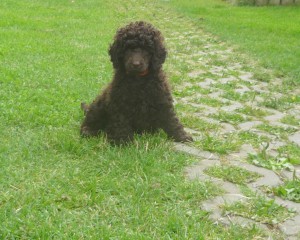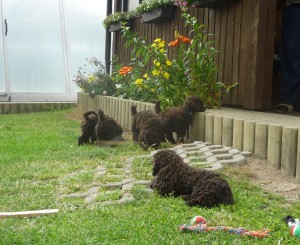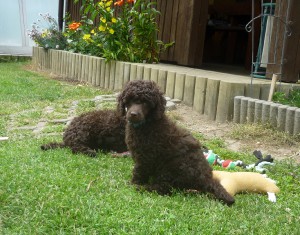 11.6.2016 KCHP club specialty Plzeň judge Zuzana Brotánková - Geronimo Exc.1, ČKŠ, Karmen Exc.1, ČČŠ, BISS IV !!!
12.6.2016 NDS Klatovy Judge Zuzana Větvinská Vršecká Geronimo Exc.1, CAC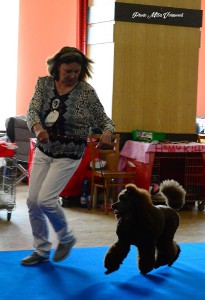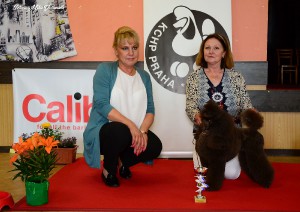 Gery / Geronimo Fantazia Brown KCHP specialty, Kojice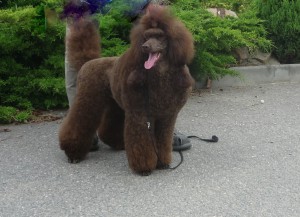 Our puppies are one week old and they are growing up into beauty.
And they have theri names :
Boys Charlie a Chicco
Girls Charlotte, Chelsea a Christine
Today 05.09.2016 was born Florince 5 puppies
3 girls and 2 boys
Congratulations !!!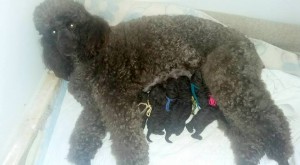 We expect puppies !!!

Father - Ruda z Derže, patella 0/0, PRA 0/0 (Klassicheskiy Aljans Leonardo X Eternal Love for Starring Moravia)
Mother - Florence Fantazia Brown , patella 0/0, PRA 0/0 ( Sir John von der Yburg x Colette Fantazia Brown )

Sono confirmed, we expect puppies around May 10, 2016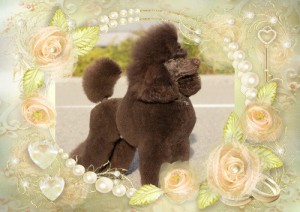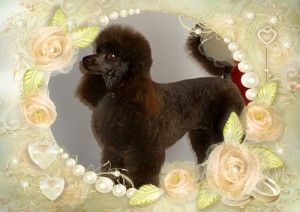 Happy Easter to all our friends !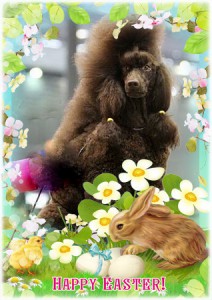 February 26, 2016 celebrates its fourth birthday of our Karmenka
Congratulations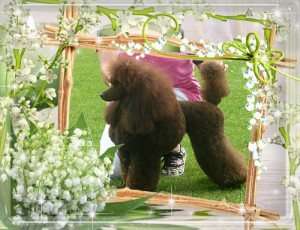 Fabík / Fabienne Fantazia Brown / Grand CH SK, CZ HU, RO, AT, CZ JCH is the new Czech champion !
Congratulations Fabík and Yvonka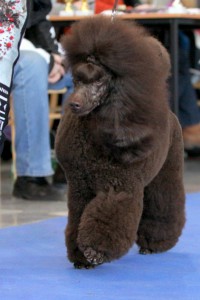 Hacky Fantazia Brown " Bruce " - 6 months old, owner Nicole Minzlaff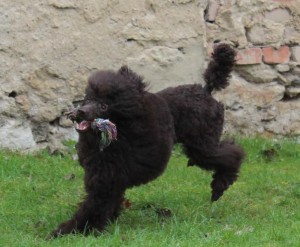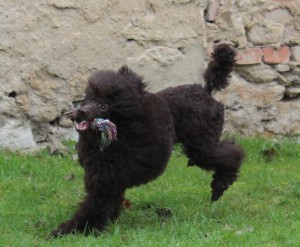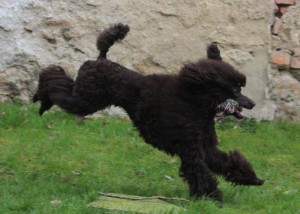 Puppies from our Karmenka - Hellen, Henry, Hacky -father Freddy Fantazia Brown,mother Karmen Brown Neraka celebrate 21.1. 2016 their 6th month.
They are growing up into beauty and plan their first steps in show rings
We wish them plenty of luck into their future lives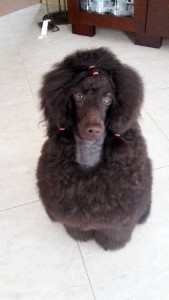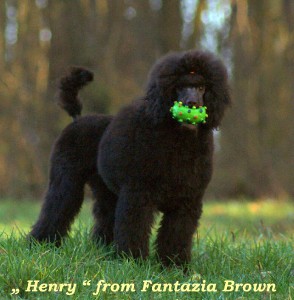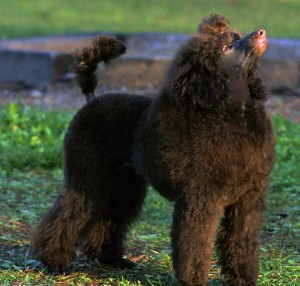 We wish all our friends a beautiful Christmas
and
Happy New Year 2016 !!!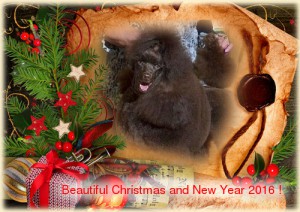 Today, December 21, 2015 celebrates its 5th birthday
Denis and Dustin Fantazia Brown.
We wish you all the best !!!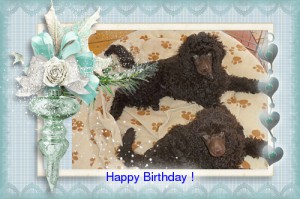 So we at that time looked !!!
Kennel Ice Lolly - medium size poodles in brown color - father Freddy Fantazia Brown , mother Pellagie z Derže, 4 puppies ( 2 boys and 2 girls ) born 3.11.2015, AVAILABLE 2 boys Abraham and Alfreddy, to new homes they can go on January 2016, Contact m.pugnerova@centrum.cz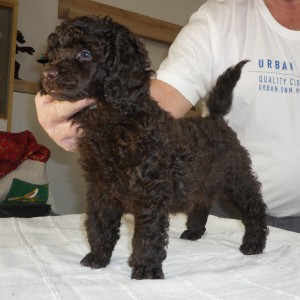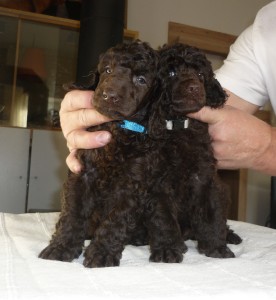 Today 9.12.2015 celebrates his 8th birthday our Coletka/ Colette Fantazia Brown Coletka wishes all her siblings - Calif ( Kevin), Carlos, Cedrik and Caroline all the best, plenty od health, joy and happiness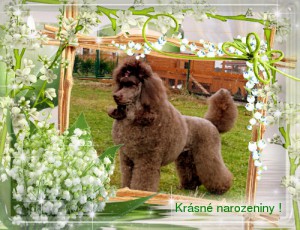 Fabienne Fantazia Brown / Fabíček
5.- 6.12 2015 - IHA Wels
Judge: Nagler Yolanda ISR , Kalinichenko Galina, UKR
2x Exc 1, CAC, 1x res CACIB, New Austrian Champion !!!
Congratulations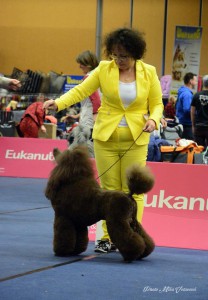 We can call it "return of lost son" when our little Gery - Geronimo Fantazia Brown, has returned to us. His new mastress was not able to take care about him. He was in a pitiful condition and because of recent sad news in our home we decide he will stay with us. Gery is hungry all the time but very clever, nice and cuddly. Based on his age we hopr he will be nice, handsome and courageous male. We will do our best to make his such

Gery after his fisr grooming !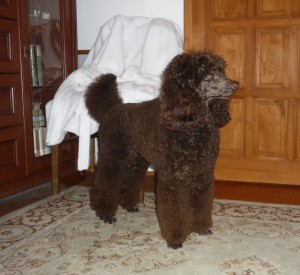 At KCHP club specialty on Sunday KCHP 22.11.2015 in Prague Gastik was successfully evaluated as a stud in 16 months age / Gaston Fantazia Brown
PRA 0/0, patella 0/0
We congratulate Gastik and his owner Jitka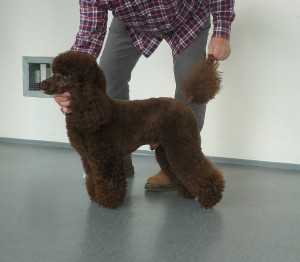 Amazingly successful weekend for Fabíček in strong concurence of italian black medium size poodles

7.11.2015,CACIB Sempeter (Slovenia) judge: Carsten Birk (DK)
Exc.1, CAC, Res.CACIB
8.11.2015 CACIB Sempeter Vrtojba - judge: Bruno Nodalli (It)
Exc.1,CAC, CACIB, BOS
We congratulate Fabíček and Yvonka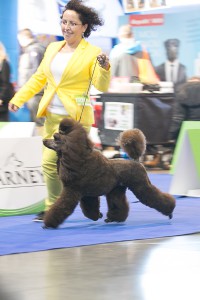 Today 9.11.2015 celebrates his 11th birthday our still handsome Lexíček.
We wish him and his siblings - Angela,Aneli,Aris all the best, plenty of health and happiness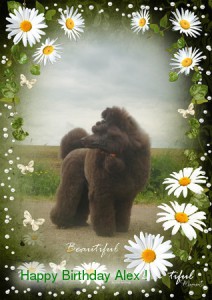 Successfull weekend of our "F" beautifull children.
At IDS in Prague 31.10.-1.11.2015 ( judges Rafl First and Anna Rogowská - both from PL) got nice critiques
Fany Lu - 2x Exc.1, CAC, 1x Res CACIB and Fabienne - Exc.1, CAC
Fanynka fullfils conditions for title Czech Champion

We congratulate both !!!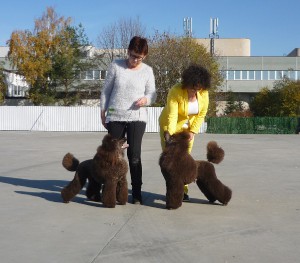 Our puppies are in their new homes. We wish them all the care and love from their new owners

Hellen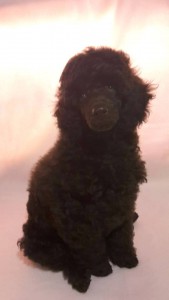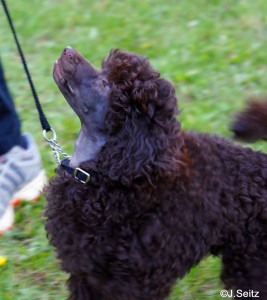 Henry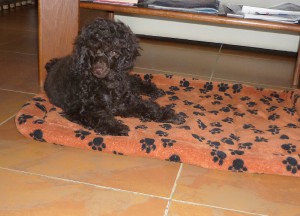 Hacky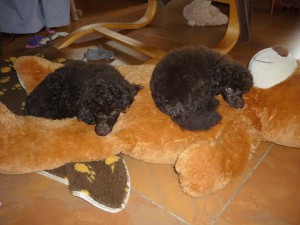 Hacky and Hillary
Hacky left us with his new owners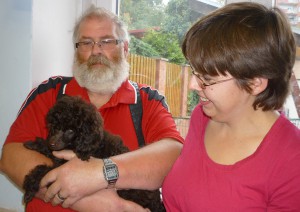 Today 24.9.2015 left us forever our lovely boy Kevin.
We will always remember you dear Kevinek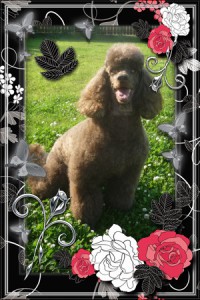 It passed too quickly and our puppies slowly leave us and go to their new homes. We wish them nice and happy life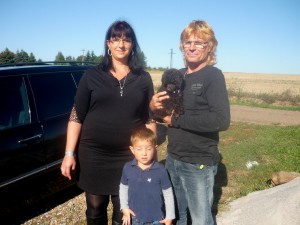 Henry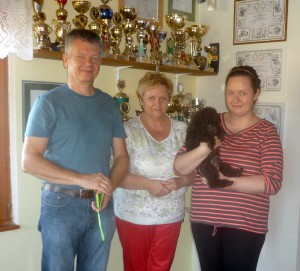 Hellen
Our puppies are 7 weeks old and bellow you might see how they take siesta under Karmenka - mums guarding and teddy bear Karel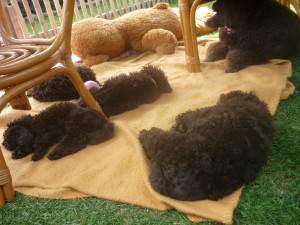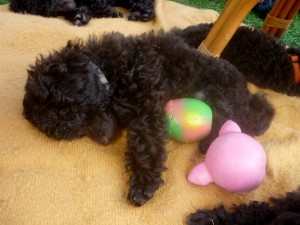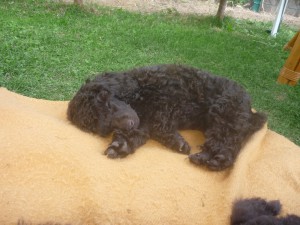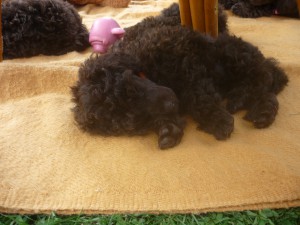 Today 7.9.2015 celebrate their 9th birthday our "B" puppies
Basco, Beatus, Borneo, Babette and Barberina
Happy birthday, all the best, full of joy, helath, happiness and nice " dog's life "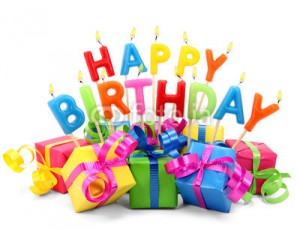 Saturday 29.8.2015 - KV/Speciality Poděbrady
judge: G.Ridarčíková (SK)
Babette Fantazia Brown / Vendulka - 9.let
Best Veteran female of show , BISS 4
Amazing success, we congratulate Vendulka, Maruška and Marcela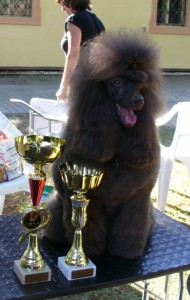 On Sunday 23.8.2015 after 2 successfull shows in romanian Oradea - 2 x CAC, 2 x r.CACIB became Fabíček / Fabienne Fantazia Brown / Romanian Champion and by show result from Debrecen - CAC, r.CACIB he also fulfilled conditions to become Hungarian Champion.
We congratulate Fabíček and Yvonka

On Friday 21.8. celebrate our puppies 1st month of their live. And with shaving their faces they become true poodles